T20 Internationals
Hosted by HCA
T20 Internationals at Hyderabad
Hyderabad Cricket Association was assigned 3 T20 internationals so far. The first T20 between India and Australia was to be played on 13th October 2017. Unfortunately this match was totall washed out. The second and third match of India against west Indies and later Australia produced an exciting spectacle for the audience. India won both the matches. All T20 International matches at Hyderabad are tabulated below with scorecards.
Virat Kohli hold the record for highest individual score in T20s at Hyderabad with 94 (not out) against West Indies played here on 6th December 2019. V Kohli passed 2500 runs in International Twenty20 matches when he reached 50 and this is also his highest score in T20 Internationals.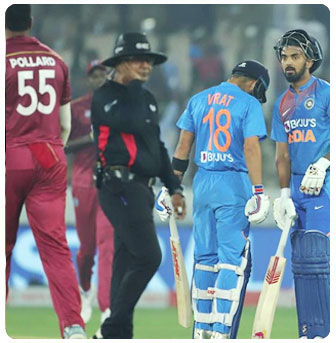 India Scored 209 runs against the West Indies on 6th December 2019. KL Rahul and Virat Kohli together scored 156 runs out of the 209 total. In partnership they added 100 runs in 61 balls to guide India to victory.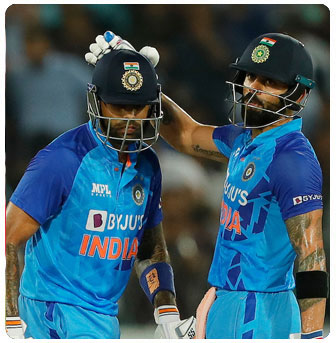 Suryakumar Yadav was adjudged the Man of the Match in India V Australia T20 International played at the RGICS on 25th September 2022. He scored 69 runs of 36 balls. India won this match by 6 wickets. Virat Kohli again played an important role in this match. He scored 63 runs in 48 balls. In partnership with SA Yadav together they scored 100 runs in 59 balls.
S.#

Date

Toss

Teams & Scores

Won by

Captains

03

25-09-2022

India

Australia
186/7 (20 overs)
India
187-4 (19.5 Overs)

India
won by 6
wickets

Rohit Sharma (Ind)
Aaron Finch (Aus)

Man of the Match

Suryakumar Yadav
---
02

06-12-2019

India

West Indies
207 for 5 (20 Overs)
India
209-4 (18.4 overs)

India
won by 6
wickets

V Kohli (Ind)
KA Pollard(WI)

Man of the Match

Virat Kohli
---
01

13-10-2017

No Toss

Match Washed Out

Abandoned

MS Virat Koli (Ind)
DA Warner(Aus)

Man of the Match

None
---
---
Rajiv Gandhi International Cricket Stadium at Hyderabad
In the 21st century, thanks to the efforts of Mr.N.S.Yadav, Hon.Secretary at HCA ,2000-09, Hyderabad now boasts of an exclusive state-of-the-art cricket venue which hosts international matches in style befitting the great game of cricket at par with any venue of international repute, anywhere in the world.
Initially it was christianed "Visaka International Cricket Stadium" and later in 2005 it was renamed "The Rajiv Gandhi International Cricket Stadium (RGICS)".
From the date of its inauguration till July 2022, RGICS hosted
6 Test Matches
6 One Day International Matches
3 T20 International Matches (1 was washed out abandoned)
Several First Class Matches